ITG announced its sponsorship of the Faris Bustami Rally Team in the World Rally Championship (WRC) 2008/ Jordan Rally; the first WRC event to take place in Middle East region, held on April 24 until April 27, 2008.
During a press conference held 2 days ago at the Royal Automobile Club in the presence of representatives from companies sponsoring the team, which included: Jordanian Private Jets Services, Commercial Bank of Jordan, Kempinski Hotel Company and Integrated Technology Group (ITG), Bustami and his Navigator Burhan Abu Qura announce the readiness of the team to contest the 2008 Jordan Rally, in the fifth round of the WRC, which begins next Thursday.
On this event ITG's president and CEO Mr. Walid Tahabsem wished the team to achieve excellent results and reach the finish line without causing any harm or danger to the drivers, cars or fans of the Rally.
Tahabsem also praised all the companies supporting the contestants, that seek to expand the media coverage surrounding this event, by providing all forms of support to sports and athletes towards global recognition.
For more information about Integrated Technology Group please visit our website: www.itgsolutions.com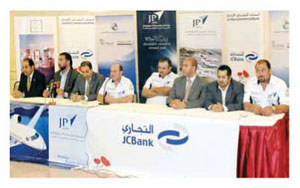 -        Ends        -
About Integrated Technology Group (ITG) 
Integrated Technology Group is a leading IT company that was established in 1989. ITG's flagship areas are:
Educational Solutions: EduWave® e-Learning & Educational Management Platform, and e-Content Development through ITG's specialized subsidiary JAID Productions.
Government/Enterprise Solutions: Government Resource Planning - WaveGRP®, Enterprise Resource Planning - WaveERP®, and Document Management Solution - WaveDMS®
More information about ITG available at www.itgsolutions.com
Media Contact
Business Development Department
Integrated Technology Group
Tel:  +962 6 4618133
Fax: +962 6 4618115
URL: https://www.itgsolutions.com
E-Mail: sales&marketing@itgsolutions.com