Prince Ghazi says endeavour gives Muslims comprehensive image of prophet's daily life
MMAN — Deputising for His Majesty King Abdullah, HRH Prince Ghazi, the King's personal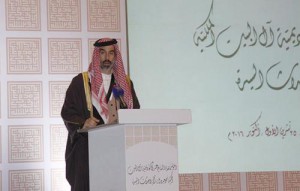 envoy and adviser for religious and cultural affairs, attended on Sunday the 17th conference of the Royal Aal al-Bayt Institute for Islamic Thought, the Jordan News Agency, Petra, reported.
During the conference on Islam's Prophet Mohammad's life, Prince Ghazi, who is also chairman of the institute's board of trustees, highlighted the importance of utilising modern tools to highlight specific dates and locations of events in the prophet's life. 
The prince highlighted a book presented to scholars at the conference that details a historical chronology of events in the prophet's life, which he said took three years of research by scholar Ali Jumaa and five others. 
The book is a main pillar in the conference's project to prepare an accurate calendar detailing the major events in Prophet Mohammad's life within a unified context.
"In the age of the Internet, minute details are being documented on Wikipedia about politicians, athletes and artists, so this project comes to document every detail of Prophet Mohammad's life," Prince Ghazi said. 
Prince Ghazi thanked Jumaa and educator Walid Tehabsem for conducting the project on the Internet, noting that its benefits lie in giving Muslims a comprehensive image of the daily life of the prophet and putting an end to some arguments about certain aspects in Sharia. 
The prince said the project is that of an entire nation, rather than an indivudaual. 
The three-day conference is being held at Le Royal Hotel in Amman, and 85 scholars are taking part in it from 35 Arab, Muslim and foreign countries to discuss 33 research papers. 
The Jordan Times