Saudi Arabia Ministry of Education and Jordanian company Integrated Technology Group (ITG), celebrate the outstanding success of the "Noor" Project for winning the WSIS Project prizes 2012 for ICT applications in e-Learning. This prize included nominations for over 170 projects from 50 countries, and the official awards Ceremony was held on  May 14th, 2012 during the WSIS Forum in Geneva, Switzerland, followed by a day-long series of presentation sessions on project implementation by managers from the winning organizations who were invited to showcase their projects to the public.
Commenting on winning the award, ITG's President &CEO Mr. Walid Tahabsem said: "We are extremely proud of our strategic partnership with the Ministry of Education, and of the renowned success that this project is achieving". He added: "We all believe in the importance of such awards in driving the wheel of excellence towards higher achievements and better outcomes. I would like to take this opportunity to congratulate the Ministry of Education for this achievement, and to thank the project team without whom this success would not have been possible."
WSIS Project Prizes for ICT applications focus on the impact of the winning projects for the development of the Information Society and achieving WSIS targets.The prizes that cover 18 categories were created in order to encourage various groups of stakeholders from all over the world to share their experiences on WSIS related implementations and activities.
The "Noor" project is considered one of the largest education projects in the region, and is deployed countrywide in Saudi Arabia to serve all education stakeholders with around 37,000 schools and 10 million users, and delivers over 2,700 functions and e-services for students, parents, teachers, administrators and other stakeholders including higher education institutions, and other civil, military, and private entities. It is based on ITG's EduWave EMIS solution, which is a comprehensive education management information system that is based on the latest technologies.
It is worth mentioning that the EduWave platform is deployed in various countries and regions including three countrywide deployments in Jordan, Bahrain, and Saudi Arabia, in addition to education institutions in Oman, Syria, and the US.
For more information about ITG, please visit www.itgsolutions.com.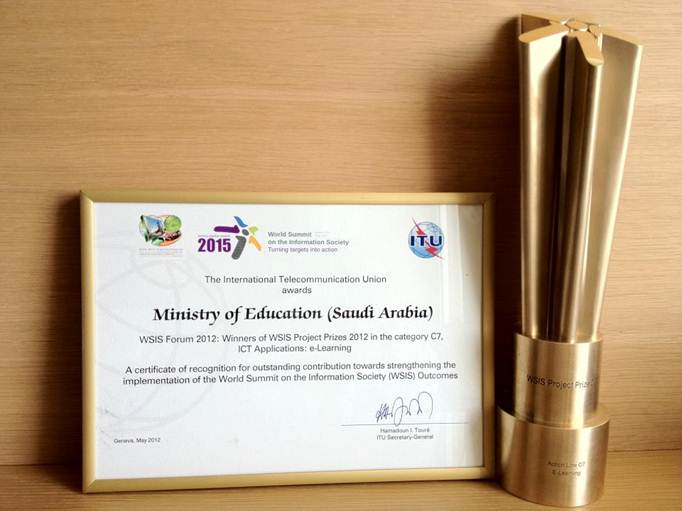 –Ends- 
About Integrated Technology Group (ITG):
Established in Jordan in 1989, Integrated Technology Group operates through three subsidiaries: EPOCH Technologies, JAID Productions, and TriAx Automation. Each subsidiary optimizes its resources to deliver technologies and solutions to the Global Markets in the areas of software development, new media and multimedia solutions, and process automation respectively. ITG's solution niches are:
E-Learning & Educational Management Solutions (EduWave®, and e-Content Development).
ERP Solutions for: Government (Government Resource Planning -WaveGRP®), Manufacturing, and Dealership Management (WaveERP®), and Document Management Solution -WaveDMS®.
More information about ITG available at www.itgsolutions.com